Maximum Savage
- Maximum Savage
2 day shipping available
Share
View full details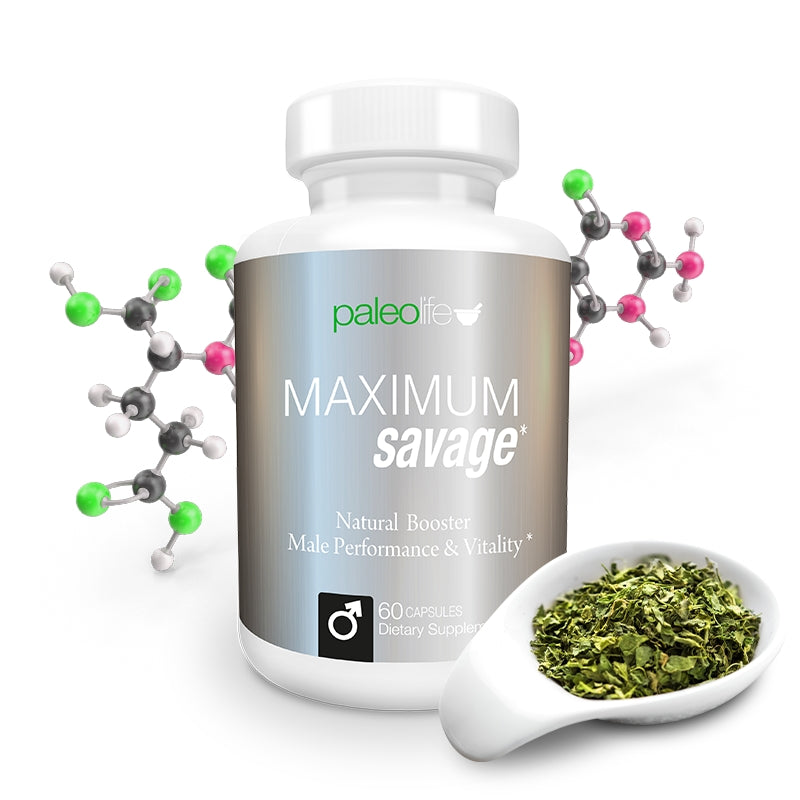 Maximum Savage is a premium product focused on energy regulation from the age of 40.

Recommended for men over 40 who want to…
● Improve their concentration, productivity, and energy
● Naturally increase their dynamism and power
● Protect and care for their prostates
● Have greater determination and performance, regardless of age
● Tone muscles and improve muscle mass

This is not just a product for men! Ideal for women* looking to…

● Tone their muscles and improve muscle mass
● Alleviate symptoms of PMS
● Decrease menstrual cramps
With

Maximum Savage

, 40 is the new 20. It is the supplement for

MAXIMUM VITALITY
Comprised of 100% organic ingredients with IMPRESSIVE EFFICACY
Maximum Savage

shows results within days of starting to take it regularly
More Energy and Concentration
Maximum Savage features a long list of essential nutrients for improving energy levels, brain function, and concentration. Among them:

● Zinc, which stimulates neuronal function. ¹
● Selenium, which helps prevent accelerated aging. It is a powerful antioxidant.²
● Boron, a micronutrient that helps protect neuronal connections.³
Improves Muscle Mass
Those who take Maximum Savage regularly have reported better levels of muscle mass and toning.

Even improved athletic performance and rapid recovery.

This is achieved thanks to its powerful ingredients—among them, fenugreek, an herb recommended for athletes.

Fenugreek:
● Boosts physical performance
● Improves strength and muscle resistance
● Has been scientifically proven to increase muscle mass⁴
Improved Male Potency
The components in Maximum Savage act in conjunction to naturally increase levels of energy.

Remember, in men, the energy tends to decline with age.

The consequences? Increased body fat (and less muscle mass), and fatigue, among many others.
Prostate Health
Through its natural components, Maximum Savage also helps protect the prostate. This male organ is prone to developing malignant diseases.

Especially the zinc in Maximum Savage's formulation acts as a top-of-the-line protector. It is a crucial nutrient for preventing prostate disorders.⁵
This is a Key Fact You Should Know…
In men and women, a significant decrease in muscle mass is very common after 40.

But with Maximum Savage, it's possible to maintain healthy hormone levels.

The results have an impact on a general level: A sense of well-being. Vitality. Full energy for daily life.
Here are some signs to check…
▢ Over 40?
▢ Low energy levels?
▢ Not feeling the same vitality as before?
▢ Less muscle mass in your arms, back, and legs?
▢ More exhausted than usual by the end of the day?
▢ Have diseases like diabetes and heart disease come on with age?
Maximum Savage is the answer to all of these questions!
Thanks to 100% organic and chemical-free ingredients
Fenugreek Extract
A powerful antioxidant that helps regulate blood sugar levels due to its high phosphorous content. In female athletes, it helps tone muscles and improve athletic performance.

Tribulus terrestris
This tiny plant has been incorporated into traditional medicine. Additionally, it reduces urinary tract inflammation and consequently decreases the risk of infections.

Vitex agnus Extract
This plant can decrease the likelihood of male pattern baldness. It reduces benign prostatic hyperplasia, which causes discomfort with urination.
Diindolylmethane (DIM)
This compound can help prevent the growth of malignant tumors.

Mucuna pruriens Extract
Consuming this natural antioxidant contributes to the development of muscle mass—much needed for maintaining vitality beyond 40.

Rosemary Extract
It has been shown to have anti-inflammatory, antibacterial, and antioxidant properties.
Sources
● 1. Krall, R. F., Tzounopoulos, T., & Aizenman, E. (2021). The Function and Regulation of Zinc in the Brain. Neuroscience, 457, 235–258. https://doi.org/10.1016/j.neuroscience.2021.01.010

● 2. Kieliszek M. (2019). Selenium⁻Fascinating Microelement, Properties and Sources in Food. Molecules (Basel, Switzerland), 24(7), 1298. https://doi.org/10.3390/molecules24071298

● 3. Nielsen F. H. (2014). Update on human health effects of boron. Journal of trace elements in medicine and biology : organ of the Society for Minerals and Trace Elements (GMS), 28(4), 383–387. https://doi.org/10.1016/j.jtemb.2014.06.023

● 4. Fenugreek extract may increase strength and muscle mass, industry-backed study finds. (2022). Retrieved 4 May 2022, from https://www.nutraingredients.com/Article/2020/04/16/Fenugreek-extract-may-increase-strength-and-muscle-mass

● 5. Sauer, A., Vela, H., Vela, G., Stark, P., Barrera-Juarez, E., & Grabrucker, A. (2020). Zinc Deficiency in Men Over 50 and Its Implications in Prostate Disorders. Frontiers In Oncology, 10. doi: 10.3389/fonc.2020.01293
enfermedad cardiaca coronaria, arterias coronarias, enfermedad cardiaca